Important Steps to be Taken While Sink Unblocking
Is your kitchen sink drain blocked? Don't panic. You can follow some quick steps and fix the clogged drain quickly and easily. Follow this step-by-step guideline on how to unblock a sink in a right way.
Step1: Equip yourself with the right drain unblocking tools and accessories
A blocked sink can be a real mess. Instead of watching over the accumulated water and other waste in the sink, you can check if you have got a plunger and a snake in your home. If you don't have these drain unblocking tools, you can buy them quickly from your nearest supermarket or hardware store.
Buy a plunger with a stout handle so as to generate a good amount of pressure when placed over the drain cover. A snake, also known as a hand auger, is available in many different sizes and types. You can pick a one that can be used for unclogging a sink drain.
Both the plunger and snake are available at cheap rates. In addition to these sink unblocking tools, you will also need safety gears like rubber gloves, a plastic bin that can be placed under the drain and a good torchlight.
Step2: Try sink drain unblocking with a plunger!
Hold your plunger properly and seal the sink drain tightly using it. Next, apply the pressure to the drain by using the plunger in an up-down manner for several times, until you find the clog is cleared. While using this drain unblocking tool, make sure you create an air-proof seal with the sink drain. Don't hold the plunger's mouth up in the air until you apply 5-6 strokes energetically.
When you take the plunger off the mouth of your sink drain, see if the water is running through the drain at a normal pace or not. If not, you can repeat the plunger method. When the clog is removed, let your sink tap run for a while so as to clean the drainage line of any small build-ups. You can also use hot water for more effective drain cleaning. During this DIY plunging operation, keep some towels or napkins handy to absorb spills.
A word of advice: Never use chemical drain cleaners while using a plunger or a snake for sink unblocking; these chemical cleansers can be harsh to your skin or eye, if they accidentally come in contact with it.
Step3: Put in the snake!
Insert the snake's tip into the drain and turn the cable in a clockwise manner (or spin it) until you reach the obstruction, meaning a build-up, inside the drainage line. Try to insert the tip of the snake such that it can hook-up to the clog tightly. Once you are through this, you can twist the cable in the opposite direction and pull it out.
Clear the dirty gunk of the snake tip once you pull out the cable. Dispose it into the dustbin. Once the drain starts running, let normal water flow through it for a while. Or you can also pour hot water to ensure deep cleaning inside the drain.
Step4: Give professional drain unblocking company a call!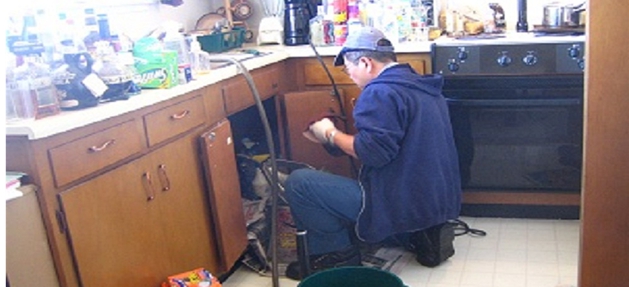 If you find that the blockage is too stubborn to fix on your own or if you suspect there can be other damage into the drainage line, don't delay any further and quickly call a professional drain unblocking company to come to your rescue. Their drainage specialists are trained, skilled and equipped to perform any complex sink unblocking job in most effective and invasion-free manner.
Got a blocked sink drain? Don't hesitate to call a professional drainage company in the town!