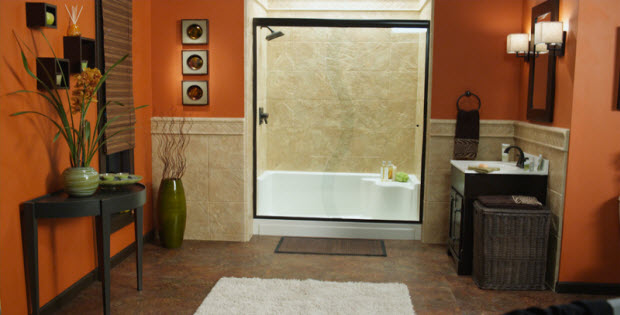 A bathroom restoration and a bathroom renovation are two completely different things. When you opt for a renovation, you add new features and make changes to bring your bathroom up to date and give it a more modern look. With a restoration, you bring back the former glory of that room.
This might mean adding vintage hardware, a claw foot tub or replacing newer tile with tiles that have a more antique look. Before beginning your restoration project, you need to consider some of the more overlooked issues associated with that project.
Image Result : http://www.rebathtoday.com
Department of the Interior Standards
If you want to really recreate the original look of your bathroom, you need to follow the Standards and Guidelines for a Preservation, Rehabilitation, Restoration or Reconstruction Project from the Secretary of the Interior and the National Parks Service. These guidelines are especially helpful if you want to receive grants or federal money to pay for the restoration. A professional restoration company can ensure that you follow all these guidelines throughout the project.
Estimate vs. Actual Cost
Restoring an old bathroom can cost $10,000 or more. The exact price that you pay depends on the products you choose, the size of the bathroom and your labor costs. Before beginning the project, you should request an estimate from several companies. After choosing one, you need to add at least 10 percent to the figure. This will give you extra cash to pay for unexpected problems that might arise, including high shipping costs and additional contractors needed for the job.
Finding the Right Items
One thing that many homeowners overlook is the time and money they spend finding the right items. When renovating your bathroom, you might need a combination of items, including new faucets, a bathtub, sink and even lighting fixtures. You'll find a wide range of bathroom restoration and renovation products through home improvement stores, bathroom showrooms like Mike's Country Kitchens & Woodworking and websites online.
This can add quite a bit to the total cost of the project. Many homeowners find that they prefer buying modern products that have a vintage design. While this can help you save money, you should keep in mind that those products don't always match the historic preservation guidelines.
Whether you love the look of pink tiles and pedestal sinks from the 1950s or Art Deco fixtures and black and white tiles from the 1920s, a bathroom restoration will let you bring back the original look of your old bathroom.