Using My Garage Sale Find: Old School Lockers
I am not an avid garage sale shopper. I wish I could say that I am a frugal shopper who finds fantastic pieces for her house through persistent garage sale browsing. It just isn't true. Every now and then, though, I will stop and find something great. My latest find is a set of old school lockers. It is cabinet of three metal lockers. They are pretty beat up with dents and scratches, but that just seems to add to their charm. I originally purchased them for the garage. My fiancé desperately needs a way to do some organizing out there, but complains bitterly about the cost of purchasing cabinets or shelves. That is the first thing I thought of when I saw them. Now that I have them home, I keep thinking of new ways I could use them.
I did worry about repainting them. Right now, they are a green that does not go with anything. After a little research online, I discovered how easy it is to paint metal. Sand, primer, and paint. Those are all steps even I can do. Once I got this worry out of the way, my creative juices began flowing.
The Entryway
We need a place for muddy shoes, dog leashes and muddy dog towels to hang. These would be perfect! We have a relatively small space in our entryway (no mudroom) but this bank of three lockers would just fit on one wall. It is the perfect number of lockers: one for my fiancé, one for our dog and one for me.My fiancé prefers neutral colors; the walls in the entryway are off-white. If we put the lockers there, I will paint them to blend in with the wall, hopefully to help minimize the look of less space.
The Study
My next thought for a great use of the lockers is in his study. Books, computer parts, paper and DVDs are overloading the room. The lockers would help hide the clutter. Right now, he has the closet full with the DVDs and books. They would fit perfectly in the lockers and the spare computer parts would then go into the closet. He likes the look of clean, European styling, which might be a little harder to match than off-white walls. To fit into his study, I think I could take the lockers down to a metal shop and get them blasted, then polished to a brushed metal look. I know he would love them.
Outside
But wait! We desperately need outdoor storage. We do not have a shed in the yard, so all of the yard tools are stored in the garage. Since there is not an outside people door into the garage, you have to haul the tools out the garage door and through the fence gate every time you want to use them. Since this gets to be a pain, quite often the rakes and shovels end up hanging around on the back deck, which is not safe or attractive. However, we have a rarely used side deck where the lockers would fit perfectly. If you take out the top shelf in one of them, it would be tall enough for the tools. Then the other two lockers could hold gloves, hand tools, pots, potting soil, and fertilizer. It would keep the yard implements out of the rain, but within easy access to the yard. We would probably have to move everything into the garage for winter storage, since there are the vents on the lockers, but for summer use, they would be great. I envision them painted in gray, complimentary to the house. If I use a rusting-inhibiting paint,they should last for many years.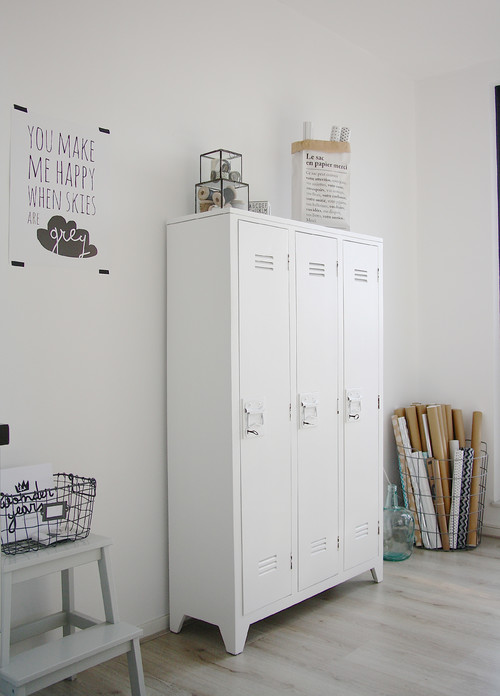 Other Options
Sadly, these are the only places these particular lockers would fit. Once I started thinking about how to use these, I wondered if I could get other sizes.My study, which is in a loft, has one wall with a low roof. It would be perfect for a short set of square lockers. I do some crafting, and having different lockers to store the supplies for the different crafts would be perfect! It would also be fun to paint them in a more creative manner. I love bright jewel tones and I can indulge that in my study. Then, in our laundry room, there is a wall where I would like to hang locker baskets to store cleaning tools. I think it would look semi-industrial and would fit perfectly. Unfortunately, the garage sale I was at only had the one piece I bought. There wasn't anything on Craigslist either. I did find you can purchase old lockers online. Once we decide where to put the current set of lockers, I will start planning for my next purchase.
I do not consider myself a designer or even an amateur designer. I have things I like and I just hope that they all go together. My excitement for these lockers surprised me. I think that is the allure of garage sales. You can find odd things that excite you; things you would never have gone looking for, but still strike your fancy. While not a DIY person, I am excited to make these fit into our home. Let me know in the comments about any pieces that surprised you with a new excitement.
About Author – Valerie Jocums
Valerie, originally a computer programmer, is just starting her new career as a writer. She loves the sun, her Australian Shepherd dog, and her fiancé George. When she isn't mountain biking, practicing her public speaking skills, or reading, she is writing about everything she has learned.
Follow her on twitter: @vkjocums