Make your Home Attractive with Different types of Flooring
Planning to refurbish your home? Thinking about the right type of flooring for your bedroom and living area? If yes, then you have certainly landed on the right page. Choosing the right material and type of flooring can be very confusing with so many options available in the market. However, you can choose one particular type depending upon the area where you want to get it installed and features of the flooring that you require.
Different types of flooring: 
Timber flooring- The first type of flooring is the timber flooring. These floors are made up of real wood and look fantastic. In this type of flooring, every board is featured with knots to make it look unique. The high class of timber offers a great stability, strength and has a wear-resistant coating. The best part is that timber flooring is very easy to install and the installation can be finished in a single day only. However, there are various types of timbers including Blackbutt, Spotted Gum, Oak, Jarrah and others. You can install timber flooring in your living area, hallways, kitchen and bedrooms.
Vinyl flooring- This type of flooring is of two types, namely sheet flooring and tile flooring. The major benefit of vinyl flooring is that they are very durable. Even at the times of heavy foot traffic, no harm will be caused by this type of flooring. In addition to this, it is very comfortable to walk on and reduces noise. Since vinyl floors tend to lose their colors in sunlight, they are not recommended to be installed for outdoor purposes. Vinyl tiles need smooth surface for the ultimate perfection.  
Carpet flooring- Carpet flooring has become one of the hottest trends among homeowners these days. It is simply because it is the softest and the most comfortable option of all. Further, it is very economical, as no major changes are done to the floor. However, you can always go for the supreme range of carpet if your budget allows. You can avail various textures, colors and designs in carpets. In fact, you can also go for modular carpet tiles to make your living area look exclusive.
Stone flooring- Since ages, stone flooring has remained the first priority of people. Since this type of flooring uses thick and strong floor, it is indestructible and looks amazing. The stone flooring gives a classic appearance and it is moisture-resistant. However, the only drawback with this type of flooring that it is little difficult to install and can be slippery when wet. Rest, it gives an awesome finish and looks great. You can think of installing it if you do not have small kids at your place. 
Besides the aforesaid flooring types, hardwood, laminate and tile flooring are also in fashion. Tile flooring is easy to install while laminate flooring is considered as the cheap version of wood.
When choosing between different flooring options, it is important that you take the use and the budget into consideration. For example, for homes, expensive marble flooring could work, since the traffic isn't much. However, for a commercial establishment, marble flooring would probably not be such a good idea. A commercial establishment typically gets a lot of traffic during a day, which would make the maintenance of marble flooring tough. Similarly, if you live in humid climate, wooden flooring is probably not the best option for you. Moisture can quickly damage wood, which means you would need to replace your flooring within few years.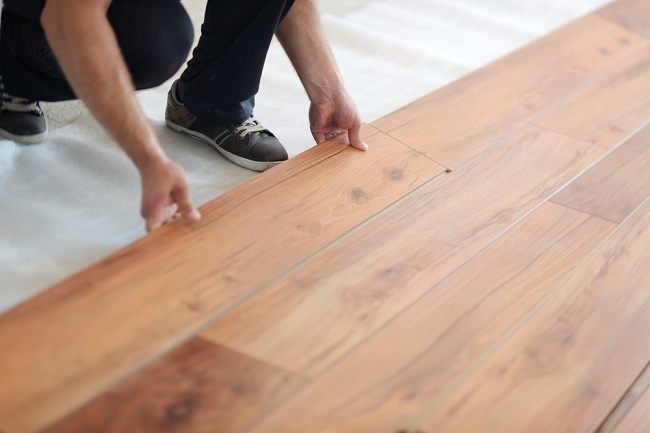 Above mentioned are the various types of flooring options which are available for your home. Choose best flooring for your home and make it attractive.