Creative Home-Organizing Ideas
Nothing is ever adequate when it comes to home décor and organizing tips. Professionals are constantly coming up with new ideas and reasons to do or not do things; chasing expert advice or not becomes secondary, but tips are always welcome. These surefire tips are dedicated to all those creative home décor fanatics out there. These practical ideas are sure to give you plenty of ideas, to keep your home organized – the smartest and the easiest possible way.
Utilize Potential Storage Space
Storage space is vital to every type of home – big or small. The most important aspect is to avoid creating obvious storage spaces that can stick out like a sore thumb in your interior décor. The following tips will ensure all your home stuffs are organized and shoved away at the same time;




Make complete use of the idlest spaces of your home. Potential spaces include, but not limited to the space under the staircase, under-bed storage drawers and the space above doors & cupboards.
The space right beneath your table can hold all those pesky wires and extensions if you install storage bins underneath.
The space at the back of your doors can be completely utilized to hang stuff with pegs. Even the door knobs can hold knickknack if a storage bag is hung to it.
Install hooks & racks behind cabinet doors to utilize this enormous space that is otherwise vacant. This helps to find stuff easily as well.
Create An Illusion Of Large Space
Other than the right kind of paint and magnanimous furniture used, an additional fabulous idea is to create a feeling of vast space, is to include a large hand-woven area rug. A large area rug visually enhances the area space of your home; this way you can increase your storage options without letting it get overwhelming in your small space. Without the illusion of excess space, your home might actually end up looking small and stuffy. Bokhara rugs are an ideal addition to visually size up your home space. It is never too late to order these living legend hand-woven rugs straight from the professionals; you don't want to take chances buying an authentic rug, you are making an investment after all.
Think Multi-Duty
While choosing furniture and appliances that accommodate more, make sure to opt for multi-tasking furniture and appliances to reduce dependency on two things while one can serve the purpose. For example, a dual-level coffee table can hold stuff in it while the surface is used for obvious purpose. Less number of stuff around is sure to give you an edge on keeping your space organized.
Make It A Weekly Affair
Maintain a 'dump corner' to dump all the receipts, bills, home delivery and other stuff that you need for record sake. At the end of a week, sort through this pile to decide what goes into the permanent record and what goes for a toss. Make declutter a weekly affair to avoid unnecessary piling of stuff – which makes organizing a herculean task. The minimalistic approach always works best with maintaining an organized home.
Get Zany With DIY
There are numerous DIY projects that can flaunt your creative sparks and also enhance the orderliness of your home. These functional ideas could be as simple as attaching name tags for easy reference or as elaborate as making organizing fixtures on your own – these ideas are sure to help you with your organizing while adding a zing of personal touch to your space. Aim at ideas that suit your lifestyle while browsing through DIY projects suggested by professionals.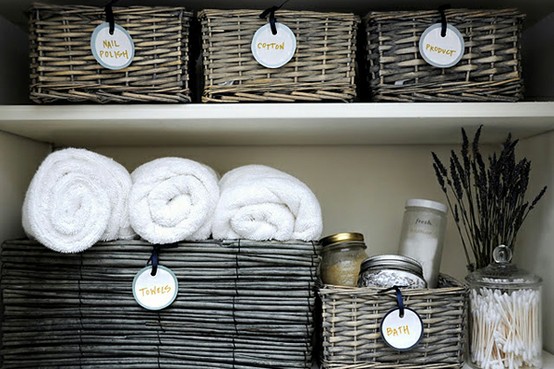 Author Bio: This article was written by Preethi. She loves reading and writing about interior designing, home décor and art & craft. She currently works at www.PakWholesaleRugs.com